Beautiful Pregnant Malaysian Won Gold Medal SEA Games About Horse Racing
Quzandria Nur Mahamad Fathil, nearly 5 months pregnant, but hid the information to competed in the SEA Games 19 and won the gold medal about horse riding demonstration.
---
On August 24th, Quzandria Nur Mahamad has contested the riding demonstration content and won gold medal with 152.029 points, ranked just above her brother Qabil (silver medal with 149.547 points). The bronze medal belonged to Caroline Chew. The Singapore athlete was in the third rank with 145.588 points.
After winning the first individual gold medal plates in the SEA Games, Quzandria did not hide happiness and the tears were rolling on the cheeks of athletes age 35 of Malaysia. Before that, she won the gold medal Malaysian racing team.
Quzandria, recently decided to return to Malaysia horse racing team after for 10 years, was also surprised with the prize that she had just won. If it was known that Quzandria was pregnant almost 5 months, this winning was really meaningful a lot.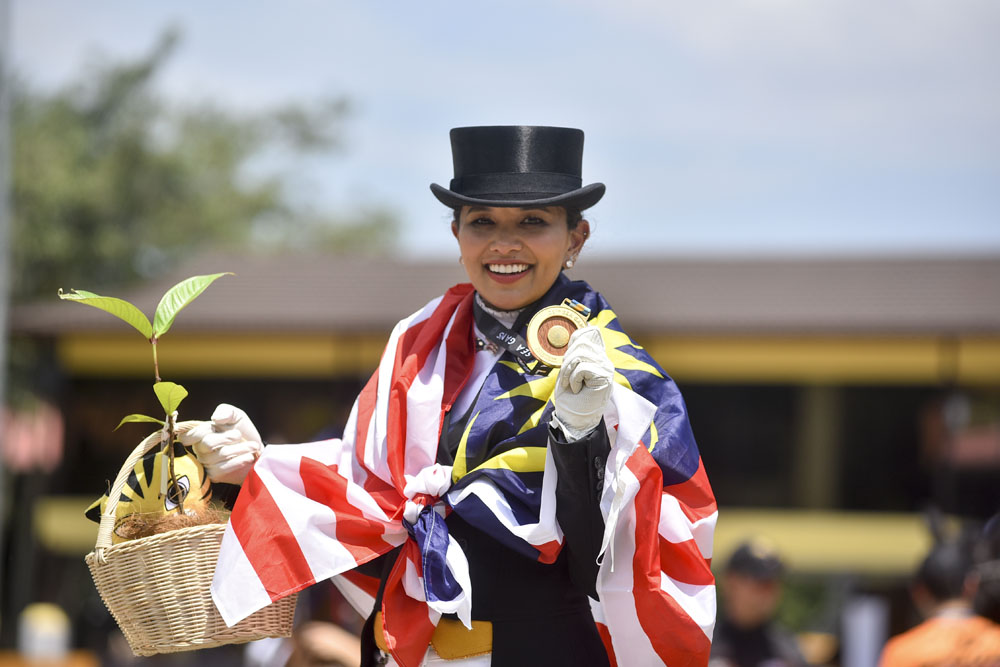 "I keep secret about abortion because I don't want to be interested in too much when attending the congress but there was a doctor's consultation. This is my first child and have a lot of anxieties", Quzandria shared.
"But the baby in the tummy is very obedient, sometimes only a few bikes. I feel very comfortable in the process. Now I have finished the task, I will rest at home according to the strict requirements of the midwife", the beautiful pregnant continued the lyrics. Husband of Quzandria is Alessandro Ciaramaglia has Italian citizenship.
Quzandria also add another reason to rejoice with this gold medal, that is after 16 years, she finally overcame her brother Qabil.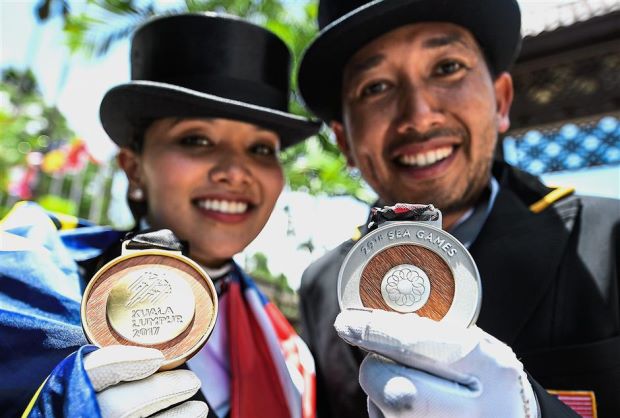 "I remember I was just running just crying because I let my self be failed my brother in personal content in 2001, when the SEA Games held in my homeland. This time, after 16 years, this is the tears of happiness. I could not believe that she has just come back after and pass him. I am happy because along with my brother Qabil win the two fisrt-placed.
"My sister deserved to win the gold medal plates. She tried her best to defeat me, it was a great performance", Qabil also doesn't hide the proud of younger sister Quzandria.
Qabil, 37 years old this year, has won 10 gold medals in the SEA Games in 2001, 2005 and 2007. Qabil can still raise the achievement of individual and team competitions of the content to jump over the railings.